Mustafa Altun
From The Circuits and Biology Lab at UMN
Jump to navigation
Jump to search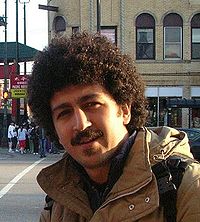 I am a Ph.D. candidate in the Dept. of Electrical and Computer Engineering at the University of Minnesota, Twin Cities Campus. I am pursuing research on computing models for emerging technologies. I also have a particular interest in combinatorics, more specifically hypergraphs.
Current Research
As current CMOS-based technology is approaching its anticipated limits, research is shifting to novel forms of nanoscale technologies including molecular-scale self-assembled systems. Unlike conventional CMOS that can be patterned in complex ways with lithography, self-assembled nanoscale systems generally consist of regular structures. Logical functions are achieved with crossbar-type switches. Our model, a network of four- terminal switches, corresponds to this type of switch in a variety of emerging technologies, including nanowire crossbar arrays and magnetic switch-based structures.
Switching Networks
In his seminal Master's Thesis, Claude Shannon made the connection between Boolean algebra and switching circuits. He considered two-terminal switches corresponding to electromagnetic relays. A Boolean function can be implemented in terms of connectivity across a network of switches, often arranged in a series/parallel configuration. We have developed a method for synthesizing Boolean functions with networks of four-terminal switches, arranged in rectangular lattices.
Percolation for Robust Computation
We have devised a novel framework for digital computation with lattices of nanoscale switches with high defect rates, based on the mathematical phenomenon of percolation. With random connectivity, percolation gives rise to a sharp non-linearity in the probability of global connectivity as a function of the probability of local connectivity. This phenomenon is exploited to compute Boolean functions robustly, in the presence of defects.
Self-Duality Problem
The problem of testing whether a monotone Boolean function in irredundant disjuntive normal form (IDNF) is self-dual is one of few problems in circuit complexity whose precise tractability status is unknown. We have focused on this famous problem. We have shown that monotone self-dual Boolean functions in IDNF do not have more variables than disjuncts. We have proposed an algorithm to test whether a monotone Boolean function in IDNF with n variables and n disjuncts is self-dual. The algorithm runs in time.
Contact Information
Email Address: altu0006@umn.edu
Cell Phone: 612-978-2955
Address: 200 Union St. S.E., Room 4-136, Minneapolis, MN 55455