Difference between revisions of "Tonglin Chen"
From The Circuits and Biology Lab at UMN
Jump to navigation
Jump to search
---
Latest revision as of 18:43, 3 June 2022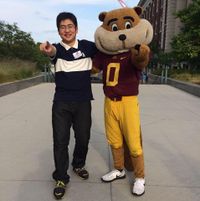 About Me
I completed my M.S. in Electrical and Computer Engineering at the University of Minnesota, advised by Prof. Marc Riedel, in 2021.
Research
My research was on DNA computing and DNA Storage. Directions that I explored include concentration-based computing with nicked DNA, theoretical complex computation on SIMDNA structures, and stochastic computing with random nicked DNA.
Papers
Contact
Email: echo 'Y2hlbjUyMDJAdW1uLmVkdQo=' | base64 -d